Pass the CDL Exams in Your State.
Guaranteed.
Don't memorize the CDL Manual
Instead, learn the quickest and most effective way (by watching, listening and taking practice tests )
Updated for 2020 and good for ALL states
Covers ALL CDL Endorsements
Pass state exams or you don't pay 
Go through the Training System
Watch videos, listen to MP3s, learn the way that's best for you
Go through the Training Modules
Watch CDL trainer take each test, reading the question and answers, and going to the CDL manual section that covers each question. Then YOU take that same practice test yourself. 
Take Practice Exams
With questions from Master Database based on your state's official CDL handbook
Take DMV Simulated Exams
With questions from Master Database based on your state's official CDL handbook. Exams have same format, number of questions, and time limit as your state exams.
Take and pass official CDL Exam
Guaranteed to pass if you've gone through all the trainings. If not, you don't pay anything.
Take and pass state CDL Exams
Go pass the exams with confidence. If you don't pass all your exams, you don't pay anything. Just email us and we'll issue you an immediate refund.
Mobile, desktop or tablet. 
Choose when and where to go through the training, on your terms.
The whole experience is optimized to be easy to learn on the go.
4 Different Tools To Help You Succeed
Whether you learn better by watching, listening or taking practice tests, we've got you covered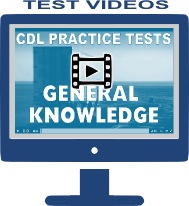 Every test is covered by an instructional video. I read each question, and possible answers. The correct answer is given, along with CDL manual reference. Then you can watch as I go over the corresponding section in the manual and explain sections where necessary.
Tests are also covered by MP3s which you can listen to on your smartphone while you're on the go… in your car or truck, before you go to sleep or when you wake up, when you're having breakfast, down at the DMV before you take the test… Well, you get the idea!
Each CDL practice test is multiple choice. After each question, you immediately get the correct answer, along with a helpful CDL manual reference for you to look up if desired. This will give you confidence that each answer is correct, and that you're being thoroughly prepared.
The final step is our timed Master Exams. After you've listened to the MP3s, watched the videos, and taken those tests yourself, these exams will show you how well you really know your stuff…before you actually go down to the DMV and take the official state exams.
I read my state's (PA) CDL manual and used your online practice tests (all 3 methods and all tests available) and just wanted to let you know that I just taken Class A Combination, with Tank, Doubles/Triples, and Air Brake Endorsements. I PASSED all (4) four exams in 45 minutes!!! Thank you to everyone that allows for this site and the practice exams. You Guys are AWESOME!!!!
Your website is one that I recommend to my students for your practice exams.
Thanks to the practice tests you have on your site, I passed a thirty question test with a score of 93.33%... It was not easy, but my study paid off and thanks to you I now can earn a lot more income due to having this endorsement on my Texas CDL. Thanks Jim. P.S. The clerk in Texas said my score was really good.
Best CDL Tests! I passed all tests for Air Brakes and Passenger after doing these! Thank you for having the greatest tools on your website to make this possible. You are doing a very good thing to assist drivers. Best thing is to clear up what you don't know and then take another test!
I think your web site is very helpful and I appreciate it very much. I have recommended your site to several people. I think you have the best practice tests out there for potential CDL drivers. I always go back to your tests when I need to renew my hazmat. I am not a trucker but I do shoot professional firework shows and I have to transport the fireworks to different locations. Thanks for the help.
I took your online practice tests for the Hazmat endorsement over and over until I felt I was ready to take the actual test at DMV. I want you to know that I passed with flying colors all because of the availability of your online practice tests! Thank You very much for having The Trucker Country Website.
I just wanted to thank you for your cdl prep tests with several versions. They are by far the best on the internet. Great job Trucker Country! Absolutely, the reason that your site is so good is you have 4 or 5 practice tests in a row. The book from DMV is incomplete as far as test questions (not to mention a good cure for insomnia), and other sites just have one test. Good job!
Quick summary of everything you get
CHOOSE A PLAN
Now With FREE TRIAL
Monthly
$
19
1 Day FREE Trial, then $19/month.
Bonus: MP3s for listening on the go
Recurring monthly charge after trial. Cancel anytime.
6 Months
$
47
1 Day FREE Trial, then $47 for 6 full months access.
Bonus: MP3s for listening on the go
One time charge after trial. Only $8 per month average.​
You'll have a full 24 hours to try out our training. This includes ALL training modules including CDL test instructional video along with accompanying practice test… for ALL endorsements and testing areas! In addition, you can access all DMV simulated exams.
If you cancel anytime in this period you will not be charged. 
It takes just a few seconds! Watch the following video.
On PC/Laptop
On Mobile Devices
"No Pass No Pay" Guarantee
If you pass our timed, simulated DMV CDL Exams, I 100% guarantee you will pass your state exams. If you don't pass, send me an email and I'll return your money!
To claim refund, email me with your name and subscriber email anytime within your Premium Membership. We'll check your records to ensure completion of training modules and simulated DMV exams, then issue your full refund.
Frequently Asked Questions