PASS THE CDL EXAMS... GUARANTEED!
👎 Don't memorize your state CDL manual
✔️ watch CDL Test videos and learn instantly!
Watch the VIDEO ABOVE for a quick run through of our CDL Test Training System (and to see how easy it is to pass!).
4 training tools we use to help you prepare...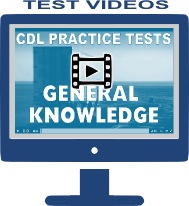 To get your CDL Permit (your first step),  you must pass your state CDL Exams.  Watching our instructional videos along with corresponding practice tests is the quickest and most efficient route to get your CDL!
Your website is one that I recommend to my students for your practice exams.
Best CDL Tests! I passed all tests for Air Brakes and Passenger after doing these! Thank you for having the greatest tools on your website to make this possible. You are doing a very good thing to assist drivers. Best thing is to clear up what you don't know and then take another test!
I think your web site is very helpful and I appreciate it very much. I have recommended your site to several people. I think you have the best practice tests out there for potential CDL drivers. I always go back to your tests when I need to renew my hazmat. I am not a trucker but I do shoot professional firework shows and I have to transport the fireworks to different locations. Thanks for the help.
I took your online practice tests for the Hazmat endorsement over and over until I felt I was ready to take the actual test at DMV. I took care of my background check first and passed that. My license was up for renewal, so now was the time to take the hazmat test. I want you to know that I passed with flying colors all because of the availability of your online practice tests! Thank You very much for having The Trucker Country Website.
Jim, I am the CDL instructor at
Goodwill
of San Antonio, TX. In the past I have referred students with a computer at home to different web sites. One of my students gave me your web site. I have come to it several times now. I like it. What I want to make sure that I can refer it to my new class. If I do it would cut down on the number of sites I need to send them to. Also would like to thank you for what you are doing.
Thanks to the practice tests you have on your site, I passed a thirty question test with a score of 93.33%... My approach, if you would like to pass it on, was to go over each one of the seven practice tests at least twice, and if I scored between 70 and 80% on your practice test I retested on that section at least three times until I only missed one or none. It was not easy, but my study paid off and thanks to you I now can earn a lot more income due to having this endorsement on my Texas CDL. Thanks Jim. P.S. The clerk in Texas said my score was really good and I told her where I studied and mentioned that if she knew any body wanting to study for it ought to Google, "Trucker Country" is your site.
I just wanted to thank you for your cdl prep tests with several versions. They are by far the best on the internet. Great job Trucker Country! Absolutely, the reason that your site is so good is you have 4 or 5 practice tests in a row. The book from DMV is incomplete as far as test questions (not to mention a good cure for insomnia), and other sites just have one test. Good job!
I just wanted to thank you for the resources you all provide for people like myself. I read my state's (PA) CDL manual and used your online practice tests (all 3 methods and all tests available) and just wanted to let you know that I just taken Class A Combination, with Tank, Doubles/Triples, and Air Brake Endorsements. I PASSED all (4) four exams in 45 minutes!!! Thank you to everyone that allows for this site and the practice exams. You Guys are AWESOME!!!!
Hey just want to thank you so very very much for putting the practice tests out here... I asked the local dmv where I could go. on their web site I would of had to pay for the learning experience You provided.... found that I had to take two more test than I was prepared for... Again each one I got wrong just from reading the manual once, You gave me the tool to correct what I didn't obtain just reading, I can't wait to be out trucking....Thanks Again you're Awesome
I'm getting ready to be part of a fire company. Driving a large truck will be helpful to a fire company and to some other companies whos owners I like. This idea of yours to help get the real knowledge to people is really great. Stay alive and stay happy cause you deserve it.
Thanks for your help. I passed all your tests both on the air brakes and the general knowledge. Now if I can only pass them at DOT tomorrow. Wish me luck. I need all I can get.
Update: I passed them yesterday, thanks to you. Your help was really appreciated!!!!!
When I was in the dmv in California just to do a hazmat test and I'm told I have to do all of them I kept telling myself I need to join something so here I am. And thank you for making this possible.
Update: I've told every one who wants to be a truck driver about your site. I have had a class A with all the endorsements since 96 and your site is awesome. I'm not a truck driver by trade but it does help me when I am looking for a job I have driven off and on for a while and my attitude towards truckers has totally changed me. To do what they do around all these car drivers is a miracle.
hi jim purcell!!! just wanted to let you know what a great website you have,and all the valuable information it has. i am,at 59, going to get my CDL, and hit the road. have already passed all endorsement tests for the state of oregon. now, just need to get the certificate. bottom line, could not have done it without all you great CDL test questions. cannot tell you how many times i have gone over and over all the endorsement questions,and still keep coming back. thanks for a wonderful website with such valuable knowledge and information!!!
First wanted to say thank you because I'm studying to get my CDL and all I've done is Study the Practice Tests on the Website and I been Passing all of them… (Update: I'm already Trucking. You guys where a big part of it! Thank you!)
I just wanted to say Thank You for your website. Your practice tests helped me with my endorsement tests. Especially the HazMat. I have told my instructors about your site and they are now recommending your site to the rest of the students instead of the one they were using. Thanks again!
Thank you for your practice tests. Using them helped me obtain both hazmat and tanker endorsements. Great program.
First of all I want to say that your website had helped me very much on passing the exam. Very easy to memorize. Thanks so much!
I would like to thank those involved in this site for such a valuable, and needed resource. After many years (33) of having a commercial license I was having a problem passing the hazmat test, until i found your site. Thank you, and may God bless you all richly.
I recently used your practice tests then utterly dominated my state test for the renewal of my HazMat endorsement. If I don't respond immediately it's because I'm back on the road or getting ready for it, thanks.
I thank you for your quick response as well as for your awesome practice tests, they completely prepared me for the exams for my CDL Permit. Passed with flying colors. Thanks again
First of all, let me thank you for the outstanding opportunity you offer to pass the Hazmat exam with all the practice questions. I especially am pleased that the manual sections are listed after each correct answer… Good job on a great site.
I just completed the HAZMAT and Tanker written test here in Fairbanks Alaska. I read the CDL manual, took your test over and over. I received a 94% on HAZMAT and 100% on Tanker. Your questions helped tremendously and are awesome. Thanks for the assistance and making this easier than just studying a book.
I just wanted to thank you for the resources you all provide for people like myself. I read my state's (PA) CDL manual and used your online practice tests (all 3 methods and all tests available) and just wanted to let you know that I just taken Class A Combination, with Tank, Doubles/Triples, and Air Brake Endorsements. I PASSED all (4) four exams in 45 minutes!!! Thank you to everyone that allows for this site and the practice exams. You Guys are AWESOME!!!!
1. You DON'T Have to Study the DMV manual to Pass the State Exams
Yes, you CAN just study the CDL manual to prepare, but it's dry and sometimes hard to absorb. That's why so many future truckers have had success with our practice tests. It's the quickest and easiest way to passing the state exams! 
2. You can prepare for EVERY state exam with our practice tests
All state CDL exams are based  on their state CDL manual, which is based on FMCSA guidelines and don't change from state to state. Our CDL test training system will prepare you to pass EVERY state written CDL exam.
3. Combining Different Methods of Learning Will Help You Remember Information Better!
With our new video and MP3 instruction that covers each practice test, you will be learning by watching, listening, reading, and taking tests. These different methods combine to help various types of learners… Auditory, Visual, and Tactile.
Auditory Learners learn best by hearing or listening (listening to videos and MP3s).
Visual Learners learn best by seeing (watching videos, which include reading tests questions and CDL manual in video).
Tactile Learners learn best by doing (by taking practice tests).
Recurring monthly charge. Cancel anytime.
Recurring charge every 6 months. Cancel anytime.
"The Easiest Way to Pass your CDL Exams"
... Jim Purcell
CDL TEST VIDEO TRAINING
TCU PREMIUM MEMBER BENEFITS
The Internet's ONLY CDL Test Video Training Modules! You get Instructional Video & MP3 by trucking expert Jim Purcell along with every practice test.

Multiple Training Modules covering every testing area needed by Truck Drivers including our Class A and Class B combined exams.​

Simulated DMV CDL Master exams (Same time limit, questions, format, etc.). Each exam attempt is different as it's randomly generated from our master source of CDL questions.​

Be prepared for ALL possible state DMV written exam questions.

Backed by our 100% No Pass, No Pay Guarantee.
Trucker Country University was created by Jim Purcell, truck driver for over 20 years and 2 million miles over-the-road. Jim also runs…
TruckerCountry.com  Free CDL testing helping truckers since 2004.
TruckingMadeEasy.com  Expert guides for all levels of truck drivers. Don't just survive…Thrive!
If you pass our timed, simulated DMV CDL Exams, I guarantee you WILL pass your state exams. If you don't pass, send me an email and I'll return your money!
To claim refund, email me with your name and subscriber email anytime within your Premium Membership. We'll check your records to ensure completion of training modules and simulated DMV exams, then issue your full refund.